Fish with Curd/Dahi Maach/दही मच्छी Recipe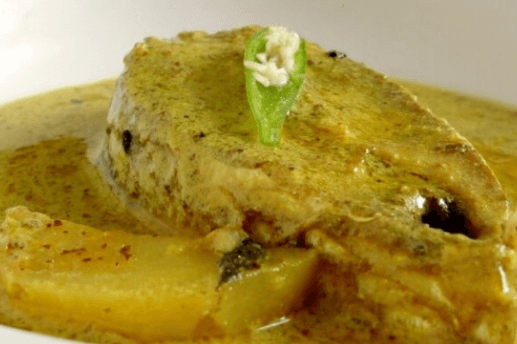 Fish cooked in curds is a well-loved combination. This recipe, cooked in mustard oil, is a fragrant and flavorful example. It goes particularly well with plain boiled rice.
 Ingredients
½ kg hilsa/ilish, bekti or any other fleshy fish, cleaned and cut in pieces

 ½ teaspoon turmeric powder

1 teaspoon salt

½ cup mustard oil

2 bay leaves

1-2 green chilies, sliced lengthwise

2 onions, ground

1″ piece ginger, ground

½ cup curds, lightly beaten

½ – 1 teaspoon sugar

½ cup water

1 teaspoon ghee or melted butter

½ teaspoon garam masala
Utensils
A heavy-bottomed pan or karahi with a lid
Method
Mix together the salt and turmeric and rub all over fish pieces. Keep aside for half an hour.

Heat the oil to smoking point, and then reduce heat and 5 minutes. Slip the pieces of fish into the oil and fry till golden brown. Remove and keep aside.

In the same oil (remove the excess, leaving only tablespoons in the pan), add the bay leaves and green chilies. Fry a few seconds.

Add the onion and fry light brown.

Add the ginger and stirring constantly, fry till golden brown.

Add the curds and sugar and mix well.

Add the fish pieces and coat each well with the mix in the pan. Check salt, adding more if needed.

Add cup water. Blend in well, and then cover the pan simmer fish gently over low heat till fully cooked.

Before serving stir in the ghee or butter and garnish with garam masala.
Serves 4