Gobhi ke Danthal ki Sabzi Recipe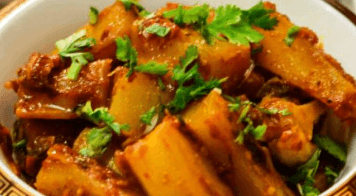 It is indeed a crime to throw away the tender green stalks which surround the base of the cauliflower. Cut into small pieces and cooked with fresh ginger, spices and tomatoes, they make a very interesting and delicious dish. The use of ajwain seeds imparts a very subtle aromatic flavor. Serve with Chapatis and yogurt.
SERVES 4 · PREPARATION TIME 25 MINUTES – COOKING TIME 35-40 MINUTES
Ingredients
Tender green stalks trimmed from two cauliflowers

2 medium onions

5-cm/1-in piece fresh root ginger

1 clove garlic

3–4 ripe tomatoes

2–3 tablespoons oil

1 teaspoon ajwain seeds

Salt to taste

Chili powder to taste

½ teaspoon turmeric

1 teaspoon ground coriander

300 ml/1/2 pint (1 1/4 cups) water

1 teaspoon dried mango powder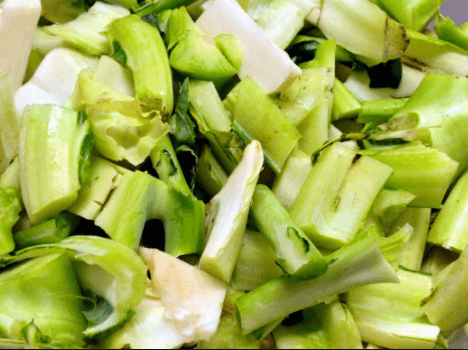 Thoroughly wash the cauliflower stalks and cut them into small pieces. Finely chop the onions, ginger, garlic and tomatoes. Heat the oil in a large frying pan (skillet). Sprinkle in the ajwain seeds and cook quickly until they pop – this should only take a few seconds. Stir in the onion, ginger and garlic and stir-fry until golden brown in color. Add the salt, chili powder, turmeric and ground coriander. Stir-fry for a few minutes then add the tomatoes.
Cook the vegetables, stirring them occasionally, until the tomatoes are soft, then stir in the cauliflower stalks. Continue cooking, still stirring frequently, for a further 3-5 minutes.
Pour in the water, mix well and bring to the boil. Reduce the heat, cover the pan and simmer the Danthal until the cauliflower stalks are tender and all the moisture has evaporated. Sprinkle the dried mango powder on top and, Stirring continuously, cook for another few minutes. Spoon the mixture into a warmed serving dish and serve immediately.