Hot Garlic Pickle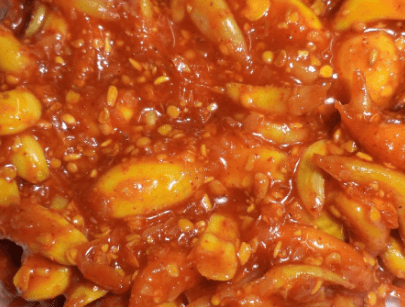 Though you may not feel so inclined to eat this in summer you can certainly take advantage of the hot sun to mature it for and to keep for colder days.
Ingredients
2 kg garlic, peeled and pounded lightly to mash, not pulp

Lime 250 grams salt

2 teaspoons turmeric powder

1½ teaspoon mustard seeds

½ teaspoon fenugreek seeds

½ teaspoon aniseed

½ teaspoon nigella

1½ teaspoon cumin seeds

200 grams dried mango powder

Mustard oil

Chili powder to taste (about 100-200 grams)
Utensils
A large, wide-mouthed jar, a piece of muslin cloth
Method
Mix together the garlic, salt and turmeric and leave in the sun for a day.

Roast all the seeds lightly on a tava or in a karhai, and then grind them coarsely. In an electric blender, this should not take more than 2 seconds. Add to the garlic.

Also add the mango powder, chili and just enough oil to cover all the ingredients in the jar. Stretch the muslin across the mouth of the bottle, tie it there, cover and keep in the sun for another 6 days. Transfer to smaller bottles if you like and store. Make sure there's oil covering the ingredients in each case – add more if needed.