Poori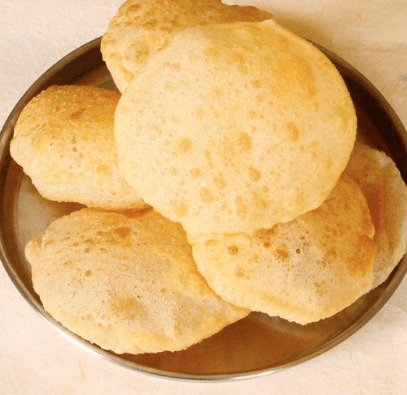 You will need –
2 cups whole wheat flour, 1/2 tsp. salt, 2-1/2  tblsp. oil, a pinch of powdered sugar. (Some people add 1 tblsp. gram flour and no oil at all.) Oil or ghee for frying.
Method:
Rub the oil, salt and sugar in the flour and add enough water to form a stiff dough. Be careful about this, as a soft dough will not make good puris. Knead well and divide into 20 balls. Flatten them slightly and keep them covered. Heat oil or ghee for deep frying, in a Kadai (a deep frying pan, like the chinese wok in shape).
Roll out each puri to about 2-1/2  to 3 inches diameter, and drop into the hot oil. It will puff up and float to the top, turn round with a slotted spoon and remove when a light golden colour. Serve hot. If you have to store them in a tin, let them be cool, then put them in a large tin, taking care not to press them down. Very often, on cooling, puris will lose their shape and become flat. This will not affect the taste much though a puffed up puri is naturally better.