Sooji Stuffed Paratha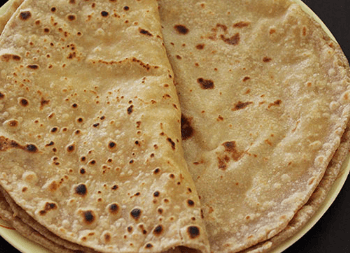 You will need –
2 cups fine semolina

3 cups jaggery or sugar

2 cups whole wheat flour

6 cardamoms

1/4 cup ghee

4 tblsp. oil

a pinch of salt,

1 cup rice flour
Method:
Fry semolina in ghee on medium heat, till it changes colour slightly. Mix jaggery in three cups of water and bring to boil.

Reduce the heat and slowly add the somolina to the water, stirring continuously. Cover and cook on very low heat for a few minutes.

Add the cardamom powder and remove. Knead well when the mixture cools, and divide into 16 portions. Cover and keep aside.

Make stiff dough of the flour, adding a pinch of salt and little of the oil. Then, taking a little more oil and water at a time, knead the dough till it becomes soft and pliable.

Pour the remaining oil in a vessel, place the dough on it and keep covered.

To make a stuffed paratha, take a small ball of the dough; press out a little on your palm, place one portion of the semolina mixture on it, close from all sides, shaping into a ball.

Take care to enclose well from all sides. Flatten the ball a little and with the help of rice flour, roll out lightly into a round, about 8 inches in diameter.

Bake on a hot girdle on medium heat, turning on both sides. Brush a little ghee on the paratha while baking; this will help bake uniformly and get a nice colour. Serve with ghee and chutney.