Stuffed Green Chili Pickle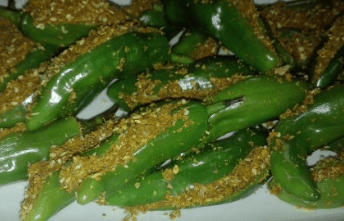 You will need –
200 gms fresh chilies of the long and thick variety. (These are available generally at the end of monsoon and are not pungent. If these are not available, choose the best that you can get)

2 tblsp. mustard powder

1/2 tblsp. methi (fenugreek) powder

1/2 tsp. asafoetida

1 tsp. turmeric

1 tblsp. Salt

1/2 cup oil

3 lemons.
Method :
Wash chilies and dry them: Keeping both ends intact, make a long vertical slit in each chili. Mix the mustard, methi, asafoetida, salt, turmeric together and stuff in the chilies.

Heat the oil in a broad shallow pan. Add a pinch of mustard seeds.

Reduce the heat and put in the chilies.

Shake and rotate the pan, so that all the chilies get coated with oil. Sprinkle very little water and cover for two minutes.

Remove from heat, and when the chilies are cool, add lemon juice, mix lightly and fill in a jar. Lasts for four to five days.