Kacha Masala Paneer, Chili Cilantro Cottage Cheese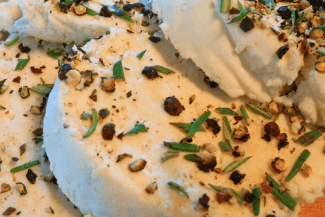 This is a different kind of 'cottage Cheese', which can be easily made at home, is very tasty and nutritious. It will last in the fridge for a day or two.
You will need –
2 cups curd

Salt

chili powder to taste

3/4 tsp. cumin seeds

One small onion

1 tblsp. chopped cilantro (hara dhaniya)

1 green chili
Method:-
Tie the curd in a thick cloth and hang it till most of the water drips down. Remove and mash the 'Cheese' till it is of a smooth consistency. Add salt and cumin seed. The cheese can be used as such. For additional savoury taste add finely minced onion and green chili, chopped cilantro (hara dhaniya) and a pinch of chili powder, mix well. Then set it to flatten and cut into cubes. Can be serve as a healthy snack.