Brinjal in Curd (Aubergine)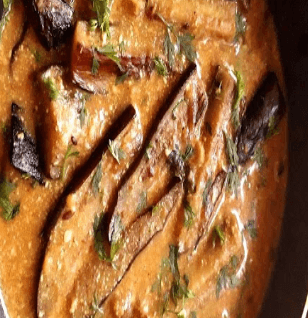 You will need –
400 gms brinjals (thin, small variety preferred)

1- 1/2 cup curd

one medium sized onion

3 green chilies

1/4 inch ginger

1/2 tsp. turmeric

salt to taste

1- 1/2 tblsp. oil.
Method :
Cut the brinjals into 1-1/2 to 2 inches strips, about 1/2 inch thick. Chop the onion and ginger finely, cut the chilies in strips. Heat oil and fry onion, ginger and chilies till onion changes colour. Add turmeric, then add the brinjals and the salt. Mix well, fry, then cover and cook on low heat. No water should be required, but if it starts sticking at the bottom, sprinkle a little. Remove and cool when cooked. Whip up the curd slightly and add to the brinjals. Mix well and keep in a cool place till serving time.