Mint Potato Flavored Curd/Raita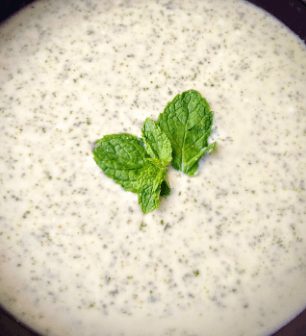 Perfect combination of Cool and refreshing ingredients for summers.  
Directions
Boil, peel and cube 3 medium potatoes.

Separately grind together 1-1/2 tablespoons each coriander and mint leaves, juice of 1 lime, teaspoon pomegranate seeds, 1 de-seeded green chili and salt to taste.
Mix the mint and potatoes into the curds and chili well before serving. You may also decide not to add the potatoes because the plain minted curd is delicious too but of course you will need almost double the quantity

.