3 Best Onions Recipes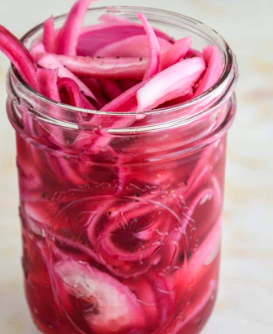 1
Onion Salad with Powder of roasted peanuts
You will need –
250 gms onions, 3 tblsp. Powder of roasted and peeled peanuts, 2 green chillies, 1 or 1 1/2 lemons, salt, 1 tblsp. chopped coriander leaves
Method: Chop onions finely. Add peanut powder, salt, finely chopped chillies, and lemon juice. Mix well, garnish with coriander leaves.
2
Onions in Curd
You will need –
2 medium sized onions, 4 walnuts, 1 cup curd, 1/3 cup cream, salt to taste.
Method : Whip the cream lightly, beat the curd, mix the two. Add salt. Shell walnuts, break into small bits. Thinly slice onions. Mix all the ingredients. Goes well with the mango rice, as well as the chapatis.
3
Onion Rings with pickle masala
You will need –
2 to 3 medium sized onions, 2 to 3 tsp. (gravy) masala from the mango pickle jar.
Method : Cut the onions in thin rounds and smear each round with a little masala. Makes a surprisingly tasty snack for those who like raw onions