Black-Eyed Pea Curry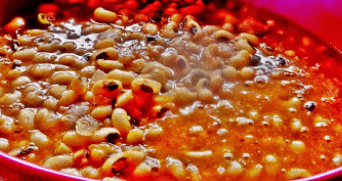 You will need –
300 gms. Rangoon Beans, (also known as Double beans or Lobia)

250 gms ripe tomatoes

1 tblsp. tomato ketchup

1 large onion

6 petals garlic

2 heaped tblsp. Butter

salt,

chili powder and sugar to taste
Method:-
Soak the beans in lukewarm water overnight or for at least 12 hours, adding a pinch of soda-bi-carb to the water.

Then wash the beans and cook them or steam them in the pressure cooker, taking care not to overcook them.

Blanch and chop the tomatoes finely; chop the onion and garlic finely.

Melt butter and fry the garlic and onion in it till onion changes colour.

Add tomatoes, fry till tomatoes become pulpy. Add the chili powder and the cooked beans.

Keep a little portion of the beans aside. Add sugar, salt, tomato ketchup to the pan, mix well and simmer.

Mash the portion of beans kept aside and add it to the pan.

Stir, simmer for a few minutes, and remove. There should be enough gravy but it should not be watery.