Rich White Mutton Curry Recipe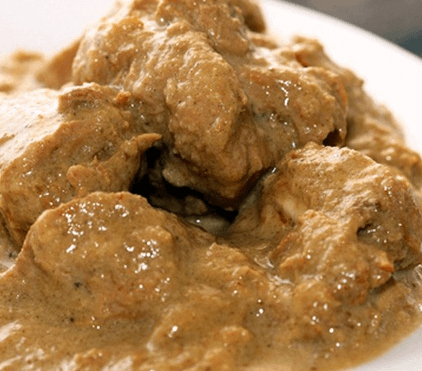 Cream, cashews, curds all combine to make this a dish for a special occasion.
Ingredients
½ kg Meat/Mutton, well washed and cubed

1 cup fresh curd

1 teaspoon coriander powder

3 tablespoons cooking oil

2 black cardamoms, pounded

½ teaspoon cumin seeds 

1 onion, sliced finely

1" piece of ginger, ground or grated

1-2 green chilies, chopped fine

25 cashews, ground to a fine paste

3 tablespoons cream or top of the milk

Juice half a lime

Salt to taste
Utensils
A pan to marinate the meat; a pressure cooker; electric blender or grinding stone to grind the cashews
Method
 

Lightly beat the curds and mix into it the coriander and salt. Rub this mixture well into the meat, pour the excess over and keep aside for an hour.

Heat the oil. Add to it the cardamoms and cumin and fry for a few seconds.

Add the onions and fry a golden brown.

Add the ginger and chilies and cook for a minute.

Add the meat with the marinade and if you want a curried preparation, add one cup of water. Close the cooker and bring o maximum pressure. Lower the heat and cook another 15-20 minutes. Let the pressure reduce by itself, then open the cooker and add the cashews, blended well with the cream. Cover and cook another 10 minutes.

Before serving stir in the lime juice.
Serves 4