Tomato and Chicken Rice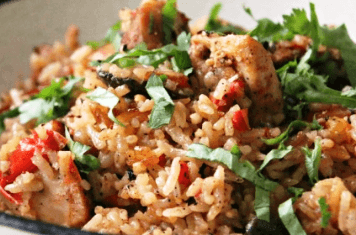 Tomato and Chicken Rice is another, interesting meal in itself which needs only a raita (flavored curd) to supplement it. The tomato and chicken flavoring is a pleasant change too. It is also an excellent way to use up leftover cooked chicken.
 Ingredients
300 gm chicken, washed and jointed

1-1/2 cups rice, picked, washed and soaked

1 stock or soup cubes (chicken)

½ teaspoon pepper corns

3 tablespoons cooking oil

1″ pieces of cinnamon

Small onions, chopped

1 cup tomato juice, canned or freshly pureed

2 tablespoon fresh, ground coriander

Juice of 1 lime

1 teaspoon sugar

Salt to taste
Utensils
Pressure cooker; a heavy-bottomed pan with a tight-fitting a tava
Method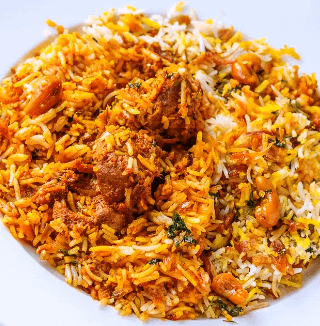 Put the chicken, water, stock cubes, salt and pepper into the pressure cooker. Allow it to reach maximum pressure, and then keep 2 minutes.

Open the cooker, separate the water from the chicken and keep aside. You may or may not discard the peppercorns. Shred or cube the chicken.

Separately, heat the oil in the heavy-bottomed pan. Drop the cinnamon in and fry a few seconds.

Add the onions and fry till light brown.

Add the chicken and fry 10-15 minutes till the onions are golden brown and the chicken is lightly fried.

Add the rest of the ingredients (throw away the water in which the rice was soaked) along with the reserved stock. Raise the heat. After the liquid comes to boil, keep the heat on high fill the liquid reaches the level of the rice. Reduce heat put the tava underneath and cook 20-25 minutes.
Serves 4-5