Corn and Capsicum Pulao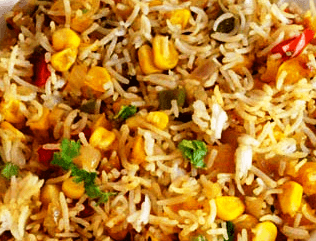 Corn and Capsicum Pulao is an unusual and interesting blending of flavors. Though you can make it with canned corn, there's nothing like trying it when it's fresh and juicy.
Ingredients
1-1/2 cups rice, picked, washed, and soaked

2 large ears of corn

5 tablespoons cooking oil

5 black cardamom, pounded

1 teaspoon cumin seeds

3 onions, sliced

1-1/2″ piece of ginger, ground

2 carrots, scraped and cut in thin slices (if you can get good quality one)

1 large capsicum, ribbed and chopped

Salt and pepper to taste
Utensils
A heavy-bottomed pan with a tight-fitting lid; a tava; a press cooker
Method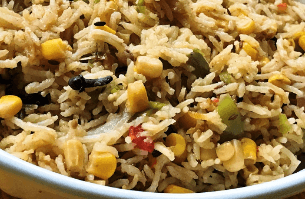 Boil the corn in about 4 cups of water till tender. This is most conveniently done in the pressure cooker. After pressure cooker reaches maximum pressure, it takes 15-20 minute depending on how soft or hard the corn is. Reserve the water in which the corn has been cooked and remove the kernel from the ears. Keep aside.

In the pan, heat the oil. Add the cardamom and fry a few seconds.

Add the cumin seeds and fry till they stop spluttering.

Add the onions and ginger and fry till golden brown.

Add the salt, vegetables and corn. Fry a few seconds.

Add 3 cups of the liquid in which the corn was cooked and the rice. If the liquid falls short add water to make it cups. Raise heat till the liquid starts boiling and reaches level of the rice, then reduce heat, cover the pan tightly, put the tava underneath and let it cook for 25-30 minutes.

Open the pan, check that the rice is cooked, and then fluff up gently with the back of a spoon.
Serves 4