French Fried Potatoes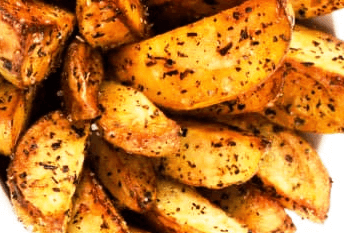 You will need –
750 gms baby potatoes (If you cannot get baby potatoes, you will have to take bigger ones and cut them in halves or quarters)

salt, pepper

1/4 cup Worcestershire sauce

3 tblsp. oil.
Method :
Boil the potatoes, taking care not to overcook them. If they are overcooked, they will break and lose their texture and cannot be fried properly.

Peel the potatoes only after cooling them. Heat the oil in a skillet and drop seven or eight pieces (or whole potatoes) in at a time. On medium heat, fry them till golden brown on all sides.

Remove and keep aside. When all the potatoes are fried, return them all to the pan, add salt and pepper, and fry for a minute or two.

Pour the Worcestershire sauce over them; remove from the flame immediately, turning and mixing at the same time, to distribute the sauce uniformly.