Green Mango Jam, कच्चे  आम का जैम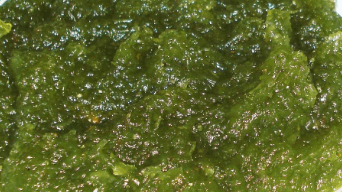 Green mango (raw mango) is available in staring of summer. Raw mango has more benefits over ripe mango as it contains more vitamin E and Vitamin A that boosts hormonal system. Eating unripe mangoes with salt prevents the excessive loss of water from the body. In addition, it fights acidity, reduces wait, protects from prickly heat, excessive sweating, beneficial for liver, good in diabetes and constipation and improves immune system.
Note: But excessive intake of raw mangoes can lead to throat irritation, stomach problems like dysentery, abdominal pain etc.
Ingredients
2 kg Green mangoes

1 ½ kg Sugar

Juice of 2 lemons
Directions
First wash green mangoes properly then peel and grate them. Remove seeds.
Take a heavy steel pan and cook mango pulp with sugar on low to medium flame till thick. Then, add lemon juice and now cook on strong heat till the jam thickens. Now pour the jam into jar while hot and allow it cool.
Store in refrigerator