Royal Seekh Kabab Recipe, Shahi Seekh Kabab Recipe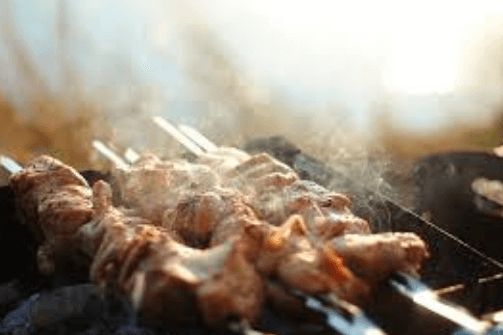 May be you have eaten a variety of kababs from different countries but nothing quite matches these, appropriately named, for their outstanding flavor. Tender pieces of meat, marinated in herbs and spices, are served with a wonderful nutty creamy sauce. Serve with Zafrani/Zaffrani Pulao Recipe.
You may like: Chop Recipes, Fish Recipes, Non-Veg Recipes
Ingredients
450 g/l lb tender boneless lamb

1 medium onion

2-5 cm/1-in-piece fresh root ginger

2 cloves garlic

½ teaspoon cumin seeds

Salt to taste

Small bunch coriander leaves

Chili powder to taste

10-12 shallots or very small onions

300 ml/½ pint (1½ cups) full cream milk

25 g/1 oz (¼ cups) blanched almonds, chopped

4 tablespoon single cream (light cream)

2 green cardamoms
Serves 4
Preparation Time 4½ Hours
Cooking Time 30 minutes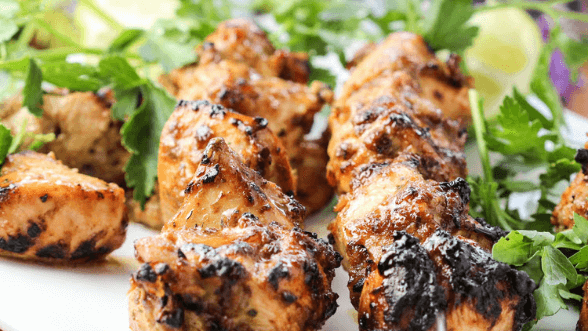 Method
Trim any fat from the meat the meat and cut it into 2-5-cm/1-in cubes. Grind the onion, ginger, garlic, cumin seeds, coriander leaves, salt and chili powder together to give a fine paste. Mix the paste with the pieces of meat to coat them thoroughly, then leave them to marinate for 3-4 hours.
Thread the marinated meat cubes on to long metal skewers with the shallots or small onions in between. Cook under a medium-hot grill (broiler), turning frequently, or barbecue the kebabs over charcoal until the meat is well browned and tender.
Meanwhile, boil the milk with the chopped almonds in a heavy-based saucepan for a few minutes until it thickens slightly. Stir in the cream and heat gently for few minutes, and then transfer the sauce to a warmed sauceboat or bowl. Split the cardamoms and remove the seeds, crush them lightly and sprinkle them over the sauce. Arrange the kebabs on a serving dish and serve the sauce separately.
Alternatively, remove the meat and onions from the skewers arrange on a dish and serve with the sauce poured over.