Saucy and Tangy Chicken Recipe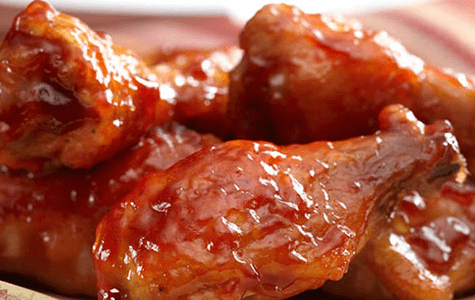 An effortlessly simple chicken dish that gets made with very little help from you. It is very popular with children too.
Ingredients
1 chicken, weighing about 700 gm

8 tablespoons tomato sauce

1 teaspoon soya sauce

A few drops chili sauce (optional)

4 cloves garlic, ground

1-½ piece of ginger, ground

1 tablespoon fresh coriander, finely chopped

Salt and black pepper to taste

1 tablespoon honey

A green chili, finely chopped

2 tablespoons oil
Utensils
A thick-bottomed pan or Karahi
Method
Mix together all the ingredients except the chicken and oil. This is the marinade.

Marinate the chicken, if possible overnight, otherwise for as many hours as you can. It is best to prick the pieces of chicken all over with a fork before you rub in the marinade.

Heat the oil and turn the chicken with all the juices into pot. Cook on a slow fire till done. This will take about half an hour. As the juices begin to dry out, i.e., by about 20 minutes, keep checking to see that the chicken is not beginning to stick at the bottom and burn. If this starts to happen and the chicken is not yet tender, add a little water to help it cook completely.
Serves 4