Tomato Saar with Coconut Milk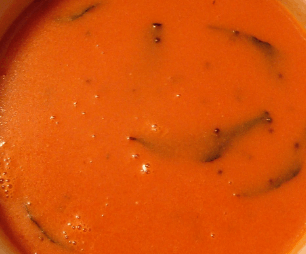 The very elegant and attractive looking preparation from Maharashtra goes very well with mildly flavoured Pulav. It can also make an excellent appetizer.
You will need –
400 gms ripe tomatoes, 1 small onion (optional), 1/2 inch piece ginger, 1 fresh grated coconut (approx. 1 1/2 to 2 cups), 4 pepper corns, 1 tblsp. ghee, 1/2 tsp. cumin seeds, salt and sugar to taste, 2 green chillies, 1 tblsp. chopped coriander leaves.
Method:
Pressure cook the tomatoes with onion and ginger. Put through the mixer and strain through a fine strainer. Grind the coconut with the pepper corns in the mixer or on the grinding stone, and squeeze out the milk, go on adding warm water, grinding and squeezing out the white liquid till the coconut becomes dry and pinkish. One coconut should yield approx. 500 ml.of milk. Add this to the tomato juice, add salt and sugar. Heat ghee, add chilli pieces and cumin seeds and pour over the saar. Bring to a boil, but do not boil. Remove and garnish with coriander. Serve hot.