Green Gram Khichdi Pulao Recipe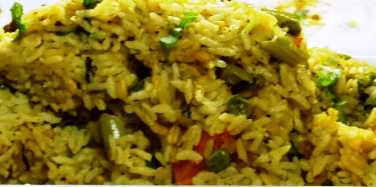 So called because the ingredients used, the rice and pulses, are the same as for khichdi, a soft kind of broth normally cooked for the sick, the old or the otherwise healthy who have over indulged. This recipe came about by accident but is now an established success.
 Ingredients
1 cups rice, picked, washed and soaked in 3 cups water

3-4 tablespoons cooking oil

1 teaspoon cumin seeds

½ teaspoon aniseed

2 small onions, sliced

5 cloves garlic, ground

1-1/2 piece ginger, ground

¾ cup split green gram, picked, washed and soaked along with the rice

½ teaspoon garam masala

Juice of 1 lime

Salt to taste
Utensils
Heavy-bottomed pan with a tight-fitting lid, a tava
Method
Heat the oil. Add the cumin and aniseed and let them brown lightly.

Add the onions and fry light brown.

Add the ginger and garlic and fry the whole mixture golden brown.

Add the rice along with the water in which it was soaked with green gram and the salt. Raise the heat to high and let it remain till the liquid starts boiling and reaches the level of the rice, then reduce the heat, put the tava underneath the pan and keep 20-25 minutes. Open the pan, check that the rice is tender and gently fluff up with the back of a spoon. Sprinkle the garam masala over and shut the lid tightly for a few more minutes.

Just before serving, pour the lime juice over and mix lightly but thoroughly.
Serves 4