Simple Potato Curry Recipe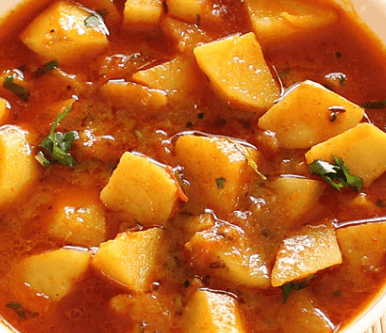 This is simple yet delicious potato dish is made by first boiling the potatoes in their skins. They are then peeled, cut into cubes and simmered in a thin sauce made of fresh or canned tomatoes, coriander and other herbs and spices. Unlike most curries, onions, ginger and garlic are not used to thicken this dish. These potatoes are traditionally served with Poories and freshly made Mango Chutney.
You may like: Recipes of different Chutneys, Pickle Recipes, Raita Recipes/Flavored Curd
Serves- 4 persons
Preparation time-5 to 10 minutes
Cooking Time-50 minutes
Ingredients
450 gm Potatoes

2 tablespoon s oil

1 teaspoon cumin seeds

¼ teaspoon nigella seeds

½ teaspoon mustard seeds

Salt to taste

Chili powder to taste

½ teaspoon turmeric

225 gm tomatoes or 1 can tomatoes

900 ml/1-½ water

Chopped coriander Leaves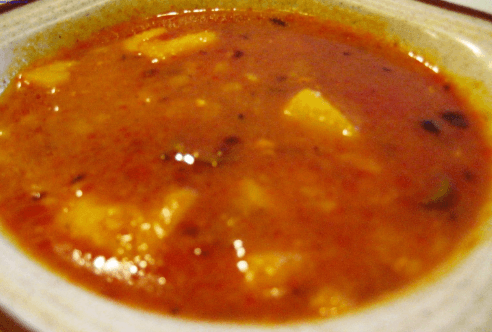 Method
First wash and scrub the potatoes and boil them in their skins for about 15 minutes. Cool them, then, peel and cut them into small cubes.
Now take a pan and heat the oil; add the cumin, nigella and mustard seeds. As soon as the seeds pop, add the ground coriander, salt, chili powder and turmeric. Roughly chop the tomatoes, chopping the canned tomatoes with their juice.
Stir the spice mixture and add the tomatoes. Stir fry for a few seconds then add 300 ml/½ pint of the water. Stir thoroughly and bring it to boil. If fresh tomatoes are used they should be cooked until reduced to a pulp. Add the remaining water and bring it back to the boil.
Reduce the heat, stir in the potatoes and allow the curry to simmer for 20-30 minutes or until the sauce has thickened slightly and the potatoes have absorbed the flavor. Now pour out into a bowl and garnish with chopped coriander leaves and the serve immediately.