Lemon Pickle with Oil,नीम्बू का आचार सरसों के तेल के साथ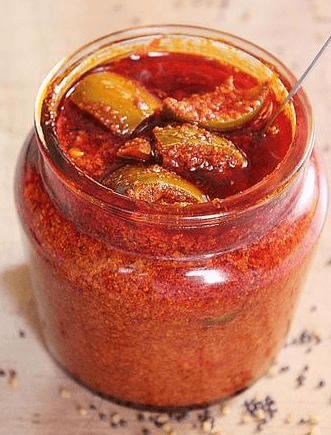 Health Benefits of Lemon
There are number of health benefits of lemon because of its nourishing elements like vitamin C, vitamin B6, vitamin A, vitamin E, folate, niacin, thiamin, riboflavin, pantothenic acid, copper, calcium, iron, magnesium, potassium, zinc, phosphorus, and protein. It is a fruit that contains flavonoids, which are composites that contain antioxidant and cancer-fighting properties. It helps prevent diabetes, constipation, high blood pressure, fever, indigestion, as well as improve the skin, hair, and teeth. Lemon juice can remove the kidney stones by forming urinary citrate, which prevents the formation of crystals. It also boosts immune system.
Ingredients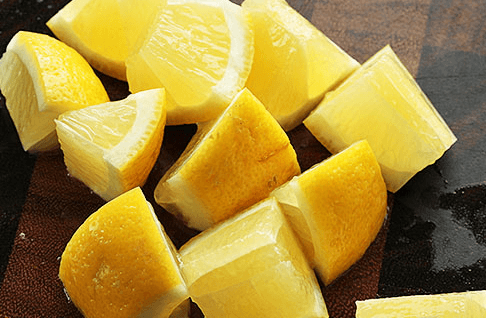 10 large yellow lemons

4 tbsp Salt

1 tbsp Turmeric Powder (Haldi powder)

2 ginger cut fine

4 cloves garlic crushed

3 cups mustard oil

Grind to a powder:

1 tbsp Fenugreek (methi seeds)

2 tbsp Aniseed (Saunf )

2 tbsp Mustrad Seeds (Rai)

10 red chilies
Directions
Soak lemons overnight in heavy salt water. Next morning wipe lemons dry and cut each lemon into 8 pieces then rub lemon pieces with salt and leave aside.
Heat mustard oil and then add ginger, garlic cloves and grinded spices (turmeric, fenugreek, aniseed, mustard seeds and red chili) and fry for 3 minutes on medium flame.
Remove from heat, add lemon pieces and mix well.
Allow to cool then pour out into a glass jar and  stand in the sun for one week stirring occasionally.
Lime Pickle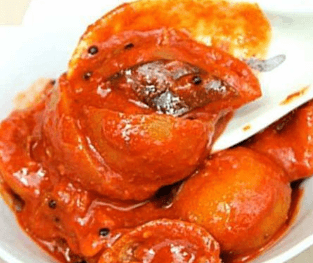 As you can see, this piquant pickle depends on no elaborate spices for flavor. It doesn't take weeks to mature either, though of course it does improve with keeping. Learn to set it perfectly and you will have an instant oft-asked-for pickle in your larder
Ingredients
1 kg lime, washed and cut in quarters

100 gm salt

1 kg sugar

1-2 tablespoons black pepper
Utensils
A large, heavy-bottomed pan
Method
Rub the limes with the salt and keep aside for half an hour

Put into the pan, add the sugar and pepper and stir to dissolve the sugar completely. The whole mixture will be quite watery. Boil rapidly till setting point is reached. On a sugar thermometer the temperature should read about 221°F or 108°C. If you don't have a thermometer, test for setting by dropping a spoonful of the liquid on to a cooled plate. If the liquid has thickened and wrinkles when you push with a finger, the pickle is done.

Cool and bottle in a cool, dry place.
Variations: Add a few teaspoons whole or ground thyme (ajwain) along with the rest of the ingredients. Thyme is an excellent digestive. You can also add a few tablespoons of finely cut (in thin sticks) ginger if you like.