Mint with Pomegranate Seeds Chutney/Sauce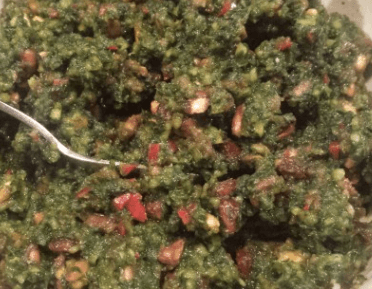 This refreshing mint chutney/sauce is a welcome addition to any meal, specially in north Indian homes as it is very common and popular. Pomegranate seeds, which are not such a common addition, are variation to this recipe and do add a special flavoring. You can raw mango pulp instead of pomegranate seeds.
You may like: Green Chutney Recipe using Capsicum, Tamatar aur Lahsun ki Chutney Recipe, Sirke wali Hari Mirch aur Rai ka Achar
Ingredients
4 table spoons mint, washed and chopped

3 tablespoons coriander leaves, washed and chopped

2-3 green chilies, de-seeded and chopped

Juice of 1-1-1/2 limes

1-1/2 teaspoon sugar

1/2-1 teaspoon sugar or according to taste

Salt according to taste
Utensils
An electric blender or a grinding stone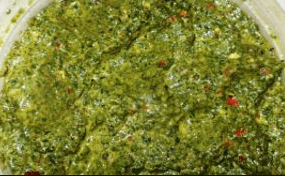 Method
First wash mint leaves and coriander leaves properly.

Put all the ingredients (mint, coriander leaves, chilies, lemon juice, sugar and salt) into blender one by one and then blend and grind them together.

if you like little raw consistency of chutney then do not blend it too much. If you like paste like chutney then you can blend it properly and can check the thickness in between the blending.

I personally like it in raw form

After blending check seasoning if you want to add more sugar or salt or lime juice you can otherwise pour this chutney into a bowl and keep in refrigerator and serve chilled. 
Note: You can have this chutney in breakfast with prathas or in lunch with daal-chawal. 
Variation: If you have option you can add the pulp of one raw green mango instead of the pomegranate seeds and lemon juice.
More Recipes: Pickle Recipes, Flavored Curd Recipes