Potato Toasts/Aloo ke Toast Recipe, How to make Potato Toasts Recipe
Tasty Potato Toast Recipe
Potato Toasts/Aloo ke Toast is a very easy recipe to make at home as potatoes are easily available and  kids like it very much. You can serve these toast with Tamatar aur Lahsun ki Chutney, Green Chutney/Hari Chutney, Tomato Chutney making at home only or you can serve with any tomato sauce available at home. You can give twist to these toast by adding tomatoes, onions, boiled peas, chopped and boiled French beans, cauliflower, carrots etc according to your liking and taste. Twisting it with tomatoes and onion make it more tastier.
You may like: Sago Chakli Recipe, Sago Wafers Recipes
 Ingredients for making of Tasty Potato Toasts/Aloo ke Toast
4 slices of bread per person

500 gm potatoes, boiled, peeled and mashed (You can reduce the potatoes and add boiled peas, chopped and boiled French beans, cauliflower, carrots, etc. according to individual liking.)

Salt to taste

1/2 tsp turmeric

1 tbsp chopped coriander leaves

4 green chilies

1 inch ginger

8 petals garlic (optional)

A little ghee or oil for greasing the sandwich toaster; butter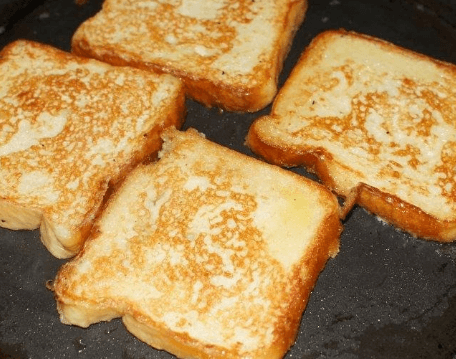 Method of  making Tasty Potato Toasts
First peel and mash boiled potatoes.

Then grind chilies, garlic and ginger; add this to the mashed potatoes along with coriander leaves, salt and turmeric.

Remove the crusty portion from the bread slices and apply butter on one side of each slice.

Divide the potato mixture making two portions per person, place one portion of the filling between two slices of bread and press down.

Grease the toaster lightly and place it on hot pan, turning on both sides, till the toast is crisp and light brown.

Serve with tomato ketchup and chutney.